Jaggerware LLC
Jaggerware LLC is a small family owned software company.
We write Mobile phone apps and manage Internet Marketing web sites.
Susan Jaggers is the CEO and is a mom with four kids.
We're giving this web site thing a try to hopefully help offset some of the HUGE college bills coming our way.
Susan has a BS in Computer Science from Texas A&M (Whoop!).
Her husband Stephen is also a Texas A&M grad with a BS in Computer Science (guess where we met).
Susan runs the business and is the only person on the company roster.
Stephen does some technical odds and ends along the way to try and help when he can.
Our Ventures to Date…
Jaggerware LLC has been in business for seven years now.
Since all of the work is done with free time, it's slow going.
But, we do have some small successes.
And, can say we've made money every year on the Android Math Wizard app.
Amazon affiliate web site building has been a learning experience with ups and downs.
Mostly downs, although some money has been earned, expenses have been beating revenue on a consistent basis.
Android/iPhone Apps
Math Wizard (Android)
Jaggerware LLC was created to try and take advantage of the HUGE Android and Apple IOS app market.
Our first venture was an application called the Math Wizard.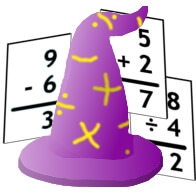 We created the Math Wizard as a way of learning just what it takes to put together a great app.
The Math Wizard was written for the Android OS.
When it was released in 2009, very few apps were already out there (compared to now).
We were so excited when it was first published.
We knew nothing about marketing (still don't know that much).
It took a while for the app to take off.
I think we sold 3 in the first 3 months.
Maybe a dozen the first six months. Then we saw some real growth.
When we had sold $60 worth in one month (we got about $1 per sale), we thought we were going to be rich!!
We'll years later, that was the best month ever.
We think to many other apps started showing up and we dropped off the top of the App Store search pages.
We get about $1 a month or so. But, our dreams of retiring and buying vacation homes with the proceeds are long gone.
If you're reading this on an Android phone, download the free version Math Wizard Lite.
It's a "lite" version that has reduced functionality to just give potential buyers of the Math Wizard an idea of what the full version can do.
We are very proud of the app.
And, even though it doesn't stuff our bank accounts, we do think it's a very nice tool that early elementary age kids can use to master their Math Facts.
If you do download the app, please make sure you go into the options to see how well the app can be tailored for exactly what you child needs to work on.
If you have the right age kids, do give it a try.
We think it's well worth the 6 quarters (of which Google gets 2 of them) that it will cost you.
Chopsticks
This is our second app.
The idea with this app was to learn more about creating an app where users of the app could play a game against each other.
Many hurdles occurred along the way.
When you're trying to keep from spending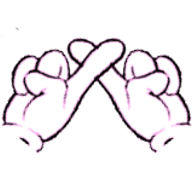 much (any) money, you try to become creative with how to implement your app with regard to player vs player interaction.
The hard part is how do you get the users to meet.
If you don't have an external server (expensive) that is keeping track of players and joining them.
Then, it gets difficult.
The first iteration of this was to create a web site that accepted HTTP requests and use PHP with a MySQL back end to keep track of the new users.
This was actually something that we got pretty much working.
But, we were using a free web hosting company (Zimic).
And, we weren't confident that they wouldn't have a problem with using their site in this way (although their TOS didn't specifically forbid it).
Also, we found that Zimic would sometimes go away for a weekend (or two). This didn't seem like a good solution.
The good news was that it took us long enough to implement the "free" version of "player vs player", that new companies came along that offered SDKs with user capabilities, and other options.
At first, Scoreloop ended up being the SDK for us.
Chopsticks was ported from using the "free" framework to using the Scoreloop SDK.
Unfortunately, there are many "nits" associated with getting this app into good enough shape where we feel it can be released.
And, since it took us long enough to port over to Scoreloop, we also were able to see what the Math Wizard was able to earn on a monthly basis.
In a word demoralizing.
Chopsticks seems very close to being able to be released.
But, every time we go back to it, it's still very far from being the type of product we want to put our name behind.
We do still plan to finish this app.
The current plans are to try and release it without the "player vs player" functionality.
It does have a "player vs computer" function that works really well.
So, we may try to release a "Scoreloop" version that just has the "player vs computer" function.
And, then later add the "player vs player" function.
But, we've been distracted by something else with bigger potential: Affiliate/Adsense Web Sites.
Two years later we have three sites, some purchases, but a LOT more bills.
Bad news on the Scoreloop front, just about ready to release Chopsticks, and Scoreloop shuts its doors.
Man this internet business stuff can be a real gut punch.
After setting Chopsticks aside to work web sites for two years, we are back and working on it again.
This time using Google Play Services libraries instead of Scoreloop.
It's going to take some porting of code to get things working with Google Play Services. But, at least these libraries look like a better fit for Chopsticks.
Oh yeah, after two years on the shelf, a search on Google Play found that someone else already released a Chopsticks game.
BUMMER!!
So, Chopsticks becomes Chopsticks Challenge. Was thinking about that name change anyway.
Also, the competitor Chopsticks seems to be missing a couple of rules (according to reviews). So, hopefully with some variations on the game, Chopsticks Challenge can be different enough to find its own place.
Affiliate/Adsense Web Sites
Best Lotion For Dry Skin
This www.beautyisonlyskindeep.net site (now defunct) is our first venture into web site marketing.
We got into this because we were up late one night and saw one of those web videos that talks about how you can quit your job and just watch the money roll in with web marketing.
I had pretty much had one of those days at work and was really liking what I was hearing.
Since it was late, it was too tired to stop listening.
And, got intrigued enough to look into this wonderful world of affiliate marketing.
I have to give credit where credit is due.
The video ended up having me go through Kyle "free" training at Wealthy Affiliates (WA).
The training there had enough information there to convince me that there was "money in them there hills".
The more I learned about WA, the more I was convinced I didn't need to pay Kyle "premium" money per month to get the job done.
I had started to pick a different "keyword" for my first site and was just about to go crazy filling that site out when I stumbled upon Spencer Haws.
Spencer Haws main web site is Niche Pursuits.
And, if you are thinking about getting into this business, I highly recommend reading through his site.
Especially the Niche Case Studies.
Spencer (and Perrin; see case study 2) truly have convinced me that money can be made.
And, they show all the steps on how to do it (including the mistakes).
Just read through one or two of the posts there, and you'll be able to tell pretty quickly just how genuine these guys are.
Anyway, back to my site. I used the "free trial" version of Spencer's Long Tail Pro tool to find my first site.
I keep going back and forth on whether this site is truly "good" in terms of keywords.
When I compare how long it's taking me to rank on Google to the two Niche Site Affiliate Case Studies, I have to think the keywords are not good.
But, I read in many other places where it can take 3 or 4 months before you truly rank where you're supposed to rank.
As I write this, I'm 2 months in.
And, am very frustrated that I don't have a sale yet.
I'm on page 3, and Perrin's site got their first sales when on page 3.
I don't have any illusions that our site is as good as Perrin's A Penny Shaved. But, I feel like my site on the surface is (don't look too close) close enough to be doing better than it is.
Hopefully, I'll be updating this in a week or two to say how wrong I was and man it's doing great for only being around less than three months.
We are also planning to apply for a Google Adsense account.
If we are approved, that should not only open up potential earnings. But, it should open up what keywords we can choose.
UPDATE:
The Beauty is only Skin Deep site was hammered by the Google PBN update on September 18th.
Perrin's A Penny Shaved site was hammered on the same day.
Neither recovered. Perrin seems to try to stay with his domain. I took a different path and moved and redesigned the content to be a new site: www.coffeebeanmenu.com.
This site is taking a new slant. It is putting lotions into "division" like the NFL, and pitting "teams" (lotion products) against one another.
This makes the content easier and more fun to write. First because it can be written in small chunks, one "football" drive at a time.
After about 10 months, we are around 25 pages deep and have multiple long tail keywords (one per page). Rankings in Google hover anywhere between 10 and 50, with most of the keyword around 30 or so.
The keywords have been climbing over time, but it seems like they may have risen as high as they are going to go without something changing.
Not sure if this affiliate/adsense adventure was worth it. So far, I would say NO.
Still hopeful that after maybe a year that a few keywords might make it to the first page since they are low local search values and low competition.
Google teases us with things like one keyword going from 25 impressions in one day to 300 impressions in one day (with an average rank of 6.5 for that day).
The next day, back to 17 impressions and an average rank of 21. Seems like a failed sandbox test.
The Coffee Bean Menu
Our second site was: www.coffeebeanmenu.com.
It is only a few weeks in and is still in the 500+ Google search netherland for it's keyword.
As you can see from the URL, we're still using the free web hosting until one of these puppies "pops".
UPDATE:
This site also was clobbered with the PBN update.
Moved the site to: www.coffeebeanmenu.com
Some minor successes. Although, more affiliate success than adsense.
Dazzling White Teeth HQ
Third site is: www.coffeebeanmenu.com
Not a lot of success on this site. Although, from a quality standpoint, competes with the coffee site for something worth visiting.
Earlier versions of our sites were more focused on getting affiliate and/or adsense traffic. Now, actually trying to put together sites that we can be more proud of.
Dakota Says
Well, at the end of 2016, The Coffee Bean Menu site started to take off. So, we're making money now. Not enough to quit my job yet. But, enough for the sites to pay for themselves with a little extra.
With some small success, and at the time upwards trending, we started our fourth site www.coffeebeanmenu.com.
Almost up to 10 pages on the site with hopes of seeing it start to earn on its own maybe by the end of 2017.
Long Tail Pro Affiliate Landing Page
Our latest venture is becoming an affiliate for Long Tail Pro. We have been using Long Tail Pro for several years now.
So, it only made sense to write an article about our recent successes and promote Long Tail Pro in the process as an affiliate.
Here is our Landing Page where we talk about Market Samurai and how it compares to Long Tail Pro.
Conclusion
We're hoping 2016 is the breakout year for Jaggerware LLC. Although, breaking even would probably be considered a success.
[UPDATE] Then end of 2016 turned out to be very positive. Early 2017 is seeing a step back for The Coffee Bean Menu (a little expected following holidays). But, the Dazzling White Teeth HQ site is also starting to earn on its own. It very well might eclipse The Coffee Bean Menu for January as things look right now.
While Jaggerware LLC has made money for most years, our optimism regarding affiliate/adsense sites it up and down. On a year over year basis the trend is up. But, progress is VERY slow.
We are making maybe $100 a month right now (much better than $1 a month from 1 year ago). Impression numbers continue to grow for the most part (as each new page is created). If I can add two more zeros to the per month value by this time next year, I'll be doing back flips. I may even do backflips if I can add 1 zero to the per month earnings by next year.
With the 2016 end of year small successes, focus will likely stay on the web sites. And, the Chopsticks Challenge app is taking a back burner for now.
The apps are more fun to make, and used to make more money. The landscape for apps is a lot different now than it was for Math Wizard.
What will be interesting is if we can include some social interaction into the Chopsticks Challenge. If that can raise awareness of the app and get more money.
The model for making money will be different for Chopsticks Challenge as buying an app seems to be something that doesn't work (according to some things I've read).
We'll still have a free version and a for pay (no ads) version. And, we may experiment with In App purchases.
Hopefully, we'll stumble into something that works with one of these things.
Or, at least have fun trying!